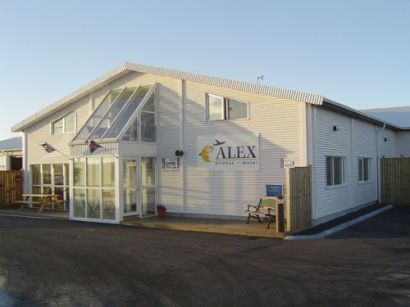 Be welcome to friendly and quiet atmosphere at our guesthouse and camping ground , a gateway to Iceland in only two minutes driving distance from Keflavik Airport as we are the first visible building in Iceland after leaving the crowded airport area, but at the same time in a walking distance from service and recreation in down town Keflavik.
Be welcome to use our free pick up service from Keflavik int. airport when checking in and out of the guesthouse and cottages during the summer months. From Alex guesthouse we offer daily transportation in the summer to the Blue Lagoon Iceland.
Alex guesthouse is the right place to stay for individuals and groups.
Main
Features
Available
Rooms
Single
Available
Price
Sleeps 1
Autumn
September to October
£160.00 per day
book now
Sleeps 1
Spring
April to May
£128.00 per day
book now
Sleeps 1
Summer
June to August
£160.00 per day
book now
Sleeps 1
Winter
November to March
£128.00 per day
book now
Triple
Available
Price
Sleeps 3
Autumn
September to October
£192.00 per day
book now
Sleeps 3
Spring
April to May
£160.00 per day
book now
Sleeps 3
Summer
June to August
£192.00 per day
book now
Sleeps 3
Winter
November to March
£160.00 per day
book now
Twin
Available
Price
Sleeps 2
Autumn
September to October
£192.00 per day
book now
Sleeps 2
Spring
April to May
£128.00 per day
book now
Sleeps 2
Summer
June to August
£192.00 per day
book now
Sleeps 2
Winter
November to March
£128.00 per day
book now
Double
Available
Price
Sleeps 2
Autumn
September to October
£192.00 per day
book now
Sleeps 2
Spring
April to May
£128.00 per day
book now
Sleeps 2
Summer
June to August
£192.00 per day
book now
Sleeps 2
Winter
November to March
£128.00 per day
book now
Family
Available
Price
Sleeps 4
Autumn
September to October
£256.00 per day
book now
Sleeps 4
Spring
April to May
£192.00 per day
book now
Sleeps 4
Summer
June to August
£256.00 per day
book now
Sleeps 4
Winter
November to March
£160.00 per day
book now
Prices are for the full price of the room per night
Follow us @flyiceland
Join our mailing list to receive new offers
First Name
Last Name
Email Address *